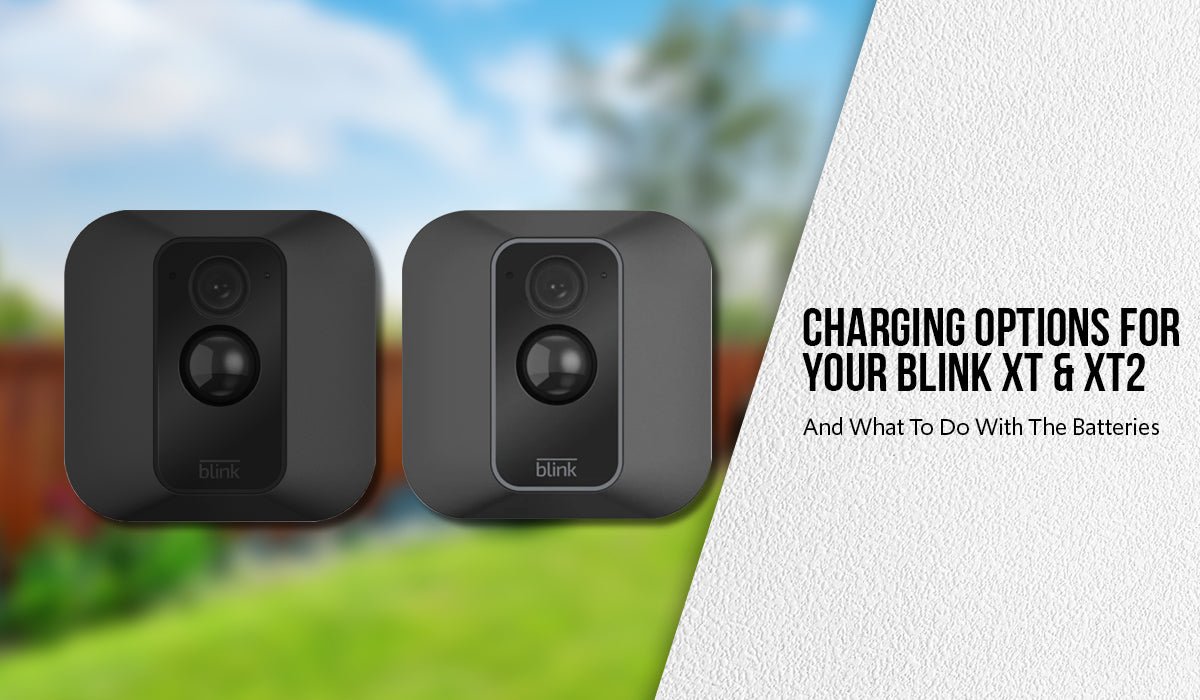 Charging Options For Your Blink XT & XT2 - And What To Do With The Batteries
Powered by two AA lithium batteries, Blink claims the Blink XT and XT2 can last up to two years on a single pair. Still, additional reinforcements can do no harm, and you could always benefit from less battery swaps that require the unmounting of your camera. Fortunately, there are many charging options available to provide that power support. In this article, we are going to introduce three charging accessories that enhance your Blink security camera experience and answer the question seen in many forums: what do I do with the batteries?
Perhaps the simplest support is a good old fashion power cable. We offer weatherproof ones that are 16 feet (5 meters) long in black and white. Note that not every power cable is weatherproof, and ones that aren't can only be used indoors. 
Not only are ours weatherproof and long, they are also ultra-thin, allowing for easy connection to electrical outlets inside or outside your home—your windows will still close completely with our cables running through it. In addition, our connector head includes a silicone tab that prevents moisture buildup and provides an extra seal at the connection point of the cable and camera.
Another option is to make good use of Mother Nature's gift. You can easily adjust and connect a solar panel to your Blink camera. The included mount has the ability to swivel 360 degrees and tilt 180 degrees, so you can position your solar panel for maximum sunlight exposure.
The connection cable is weatherproof and offers the same silicone tab as the power cable. It is 13.1 feet (4 meters) long and ultra-thin.
Last but not least, a power support with an additional function. Our Floodlight & Solar Panel Charger provides 600 lumens of light which enhances your camera's vision in low-light conditions, so you can clearly monitor your home both during the day and night. 
The floodlight is energy efficient. It includes a light intensity sensor and motion sensor that ensures its light heads will only turn on in the dark when motion is detected up to 32 feet away. It also automatically turns off 10-60 seconds after the detected motion stops. Illumination duration, brightness sensitivity and motion detection ranges are all adjustable
The solar panel recharges both the floodlight and your Blink XT/XT2. It can be adjusted by rotating and tilting for optimal sunlight exposure. The positioning of the light heads are also very flexible, and can be adjusted to illuminate specific spots. The cable that connects to the camera is, of course, weatherproof.
Conclusion
All three of these options enable the Blink XT and XT2 to directly draw power from the cable. Do the Blink cameras then still require batteries? The answer is no. However, we recommend including the AA batteries nonetheless. The reason being that it can act as backup power should a power outage occur with the charging cable, or if the batteries of the solar panels deplete after long periods of rainy days. The three wired charging options do not charge the AA batteries, but the two power sources can complement each other to ensure your Blink cameras remain ready always.