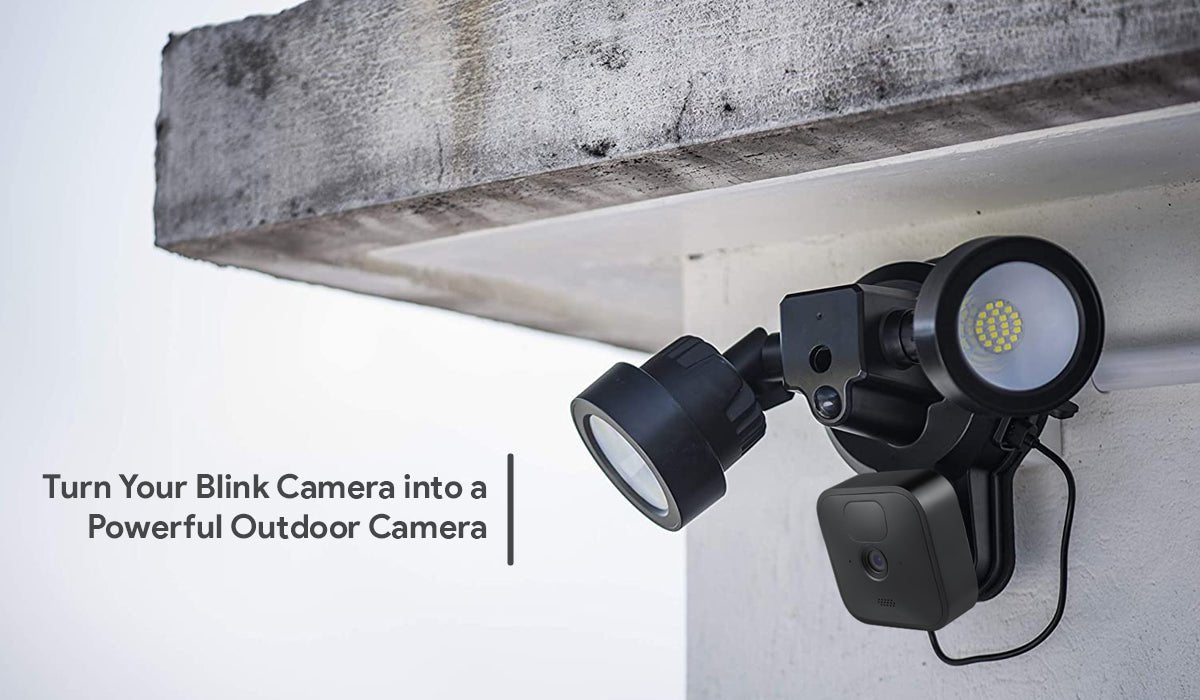 Turn Your Blink Outdoor & XT2 into Powerful Floodlights
Blink cameras have many features and aspects to love - they are budget-friendly and easy to install. They are also wireless, so you can put them anywhere you like for basic home monitoring. These home security cameras are a great fit for straightforward video surveillance at a price nearly anyone can afford. A great place to start adding more security to your life, but you can't build a full home security system around Blink cameras.
Although the Blink devices are versatile and budget-friendly, they have problems such as bad night vision, frequent replacement of batteries and mounting inconvenience. These problems hinder the Blink cameras from being good outdoor cameras. To combat these issues, the latest release from Wasserstein is a floodlight that will improve the functionality of your Blink Camera. It is the first-ever 3-in-1 Floodlight, Charger and Mount compatible with Blink Outdoor & Blink XT2. It provides a bright light for enhancing your camera's vision in low-light conditions, allowing you to monitor every dark corner of your property. It is designed to continuously charge your Blink cameras allowing you to avoid battery swaps. 
The bright floodlight heads also mean that it will deter any intruders and robbers as they often prefer targeting homes at night because it is less likely that they will be caught. Having an outdoor camera with good night vision is a must as burglary cases are still high in the US. The FBI reported over 1.1 million burglary cases and over 6.9 million property crime cases in 2019 alone. According to burglary statistics 2019, 77% of the burglaries were residential and 34% of burglars usually enter through the front door and entrance.
With the motion-activated floodlight, you can capture and deter any robberies or break-ins that might take place at night. The picture below shows a notable difference in video recording quality at night without and with the floodlight. 
Let's dig in for more features of this 3-in-1 Floodlight, Charger and Mount:
Bright Floodlight
The Wasserstein 3-in-1 floodlight provides 2000 lumens of light that enhances your camera's vision in low-light conditions, which allows it to illuminate a bigger area and to further distances for better clarity.
Coverage Distance
Our floodlight is equipped with a light intensity and motion sensor that will only turn on in the dark when a motion is detected up to 33 feet away. It also automatically turns off after no motion is detected to save power.
Continuous Surveillance
Designed to continuously charge your Blink Outdoor camera, your outdoor surveillance camera remains powered day and night without troublesome battery changes. 
Reliable Outdoor Use
It is suitable for placing outdoors pretty much anywhere because of its IP65 waterproof design and includes a protective silicone layer on the cable connector and an EVA gasket for the backplate. It can be installed in any environment like garages, backyards, alleyways, sidewalks, or any outdoor area that needs a light source.
Final thoughts
If you don't want to worry about charging the Blink cameras and give more functionality to the cameras as mentioned before, the Wasserstein 3-in-1 Floodlight, Charger, and Mount is a great solution. It is the perfect way to enhance the night vision of your Blink cameras and keep it powered continuously. 
LIMITED OFFER
Subscribe to our newsletters for an additional 5% OFF your first order. What are you waiting for?