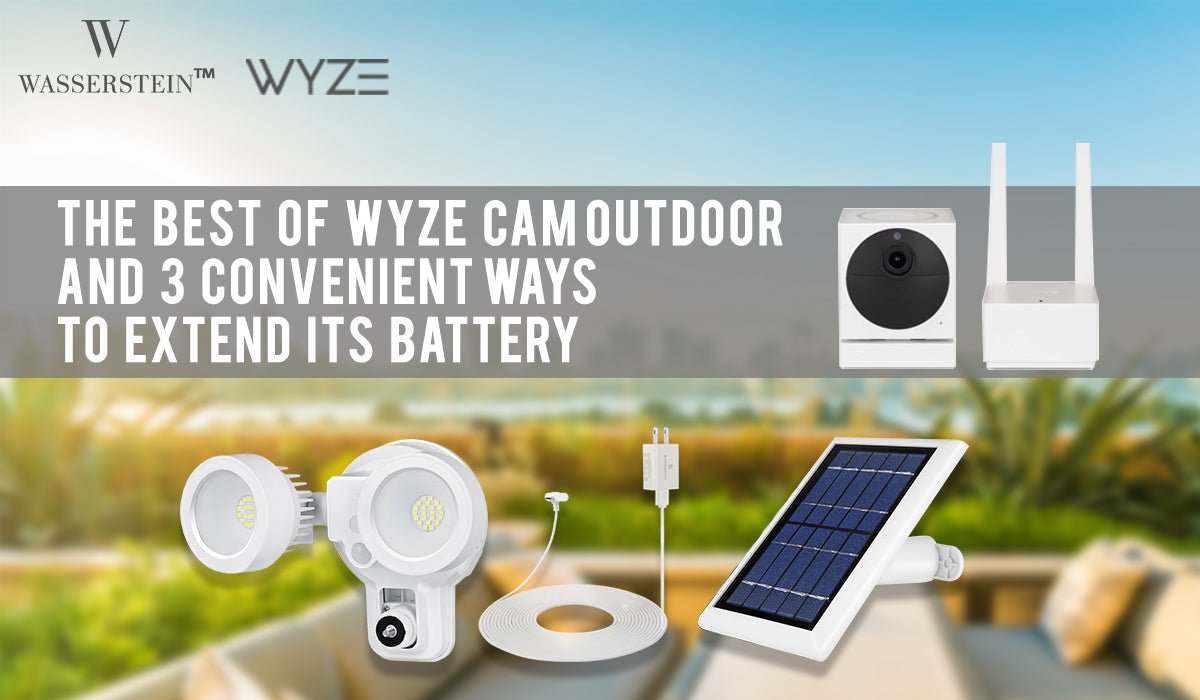 The Best of Wyze Cam Outdoor and 3 Convenient Ways to Extend its Battery
With the innumerable options of outdoor security cameras available in the market, promising to deliver exciting features to the buyers, the latest Wyze Cam Outdoor enters the race with an affordable price tag and top-notch features. Its features can firmly compete with some of the high-end outdoor cameras. Giving the world a weatherproof and built-in battery flexibility protection under $50, the Wyze Cam Outdoor is a great investment for any smart home. 
Below are the features that you can get from the Wyze Cam Outdoor:  
IP65 - Suitable for outdoor use

1080P Full HD with Night Vision - Capable of crisp video recording and live streaming.

PIR Motion Detection - It senses body heat, reducing false alerts from waving branches.

Battery Powered - Move it. Mount it. Record it. Anywhere, wire-free.

2x2,600 mAh Integrated Rechargeable Batteries - Battery life that claims to last 3-6 months.
While the features are exceptional, just like the other cameras, owning a Wyze Cam Outdoor can come with a challenge. Its integrated batteries can last from 3 to 6 months during standard use, however this is highly subjective based on the amount of monitoring you are doing. Features such as motion-activated alerts or live view can significantly drain the camera's battery. Nobody wants interrupted security and the nuisance of recharging the batteries. As a result, Wasserstein has come up with three convenient ways to extend the battery life of the Wyze Cam Outdoor. 
Wasserstein 3-in-1 Floodlight, Charger, and Mount Compatible with Wyze Cam Outdoor
The Wasserstein 3-in-1 Floodlight, Charger, and Mount can power the Wyze Cam Outdoor day and night without the messy long charging cables. The 3-in-1 Floodlight, Charger, and Mount provides uninterrupted charging, secured and steady mount, and a floodlight to enhance the camera vision of your Wyze Cam Outdoor. A perfect way to complement your Wyze Cam Outdoor. Light is also one of the biggest deterrents for an outdoor crime. It intimidates intruders knowing that they are more likely to be caught when they are standing in the presence of a bright floodlight such as this. 
Powerful 2000 lumens of light with wide-angle illumination

PIR Motion Detection up to 33 ft

IP65 Waterproof

Outdoor USB Charging

Integrated Mount
Wasserstein Solar Panel Compatible with Wyze Cam Outdoor
The Wasserstein Solar Panel will continuously power your Wyze Cam Outdoor with 2W, 5V charging and ensures that your camera never runs out of battery. Even in low light conditions, its efficient solar cells can charge the camera well. If bringing the camera close to the power source is a hassle, then keep the power source close to the camera and mount the solar panel to where the camera is. Experience uninterrupted home security by reducing your camera's downtime with this solar panel. 
Efficient Solar Cells

Weatherproof Design

Versatile Mounting with its 360-degree wall mount

Long 13.1ft/4m charging cable
Wasserstein 25ft/7.6m Weatherproof Outdoor Charger Compatible with Wyze Cam Outdoor
The Wasserstein Weatherproof Outdoor Charger compatible with Wyze Cam Outdoor is an extra-long 25ft/7.5m thin cable that can run through any window and connect your Wyze camera to any power source for continuous charging. The soft PVC micro-USB head expands slightly when inserted into the camera opening, thereby effectively sealing it from moisture and making it perfect for outdoor use. With the camera directly connected to the power source, charging is no longer a problem while the camera remains in place. This way you can reduce downtime and experience uninterrupted home security. 
Allows you to operate your Wyze Cam Outdoor continuously.

Thin cable to run through windows and small openings

Extra-long cable (25ft/7.6m) to reach more places

Ultra-durable and weather-resistant design
Conclusion 
Overall, Wyze Cam Outdoor is a great security camera for outdoor use. The challenges to keep it charged in the most convenient way are the same for other outdoor security cameras. But the aforementioned Wasserstein's accessories that are made compatible with this camera can alleviate the charging inconvenience and make Wyze Cam Outdoor a powerful security tool. 
LIMITED OFFER
Subscribe to our newsletters for an additional 5% OFF your first order. Sign up now and buy
these accessories
for your Wyze Cam Outdoor.