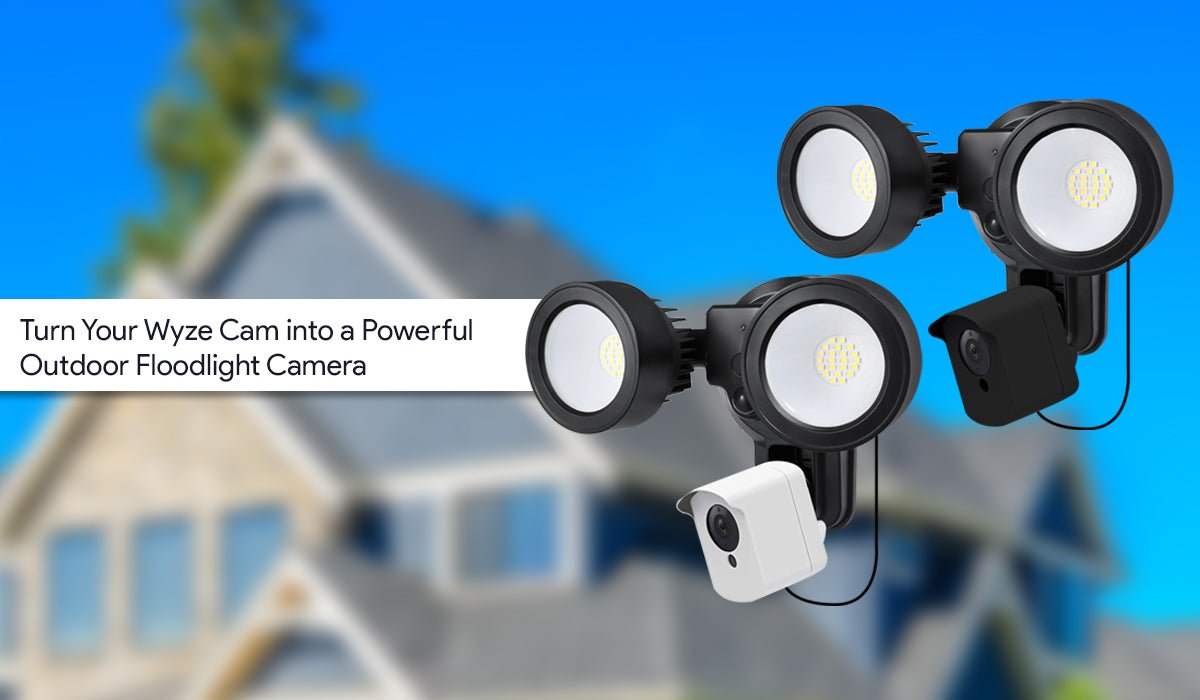 Turn Your Wyze Cam V2 into a Powerful Outdoor Floodlight Camera
The Wyze Cam V2 is one of the most popular cameras out there for home surveillance. With over 65,000 user ratings and reviews, the Wyze Cam V2 is the #1 best seller on Amazon. With a price tag of $25.98 and similar features as some of the high-end cameras, the Wyze Cam V2 is a capable and affordable camera. It is an indoor camera with a 1080p HD resolution and features motion-detection, night vision, and two-way audio via a built-in speaker and microphone. 
Having an indoor camera is great but purchasing an outdoor camera is a must to catch and deter criminals before they enter into homes. According to burglary statistics 2019, 77% of the burglaries were residential and 34% of burglars usually enter through the front door and entrance. Just having an indoor camera is not enough and thus, you will need to place surveillance cameras outside your entrance too. With the reliability and affordability of Wyze Cam V2, it makes sense for homeowners to use it to monitor their front entrances. 
The Wyze Cam V2 although a solid entry-level camera, still lacks certain necessary features to make it the best for maximum home security. It is still an indoor camera and is difficult to mount outside on its own to monitor areas outside the home entrance. It has sub-par night vision. Furthermore, the durability of the camera is another issue as it is only a $25.98 camera. To combat these issues, Wasserstein has released the 4-in-1 Floodlight, Charger, Mount, and Outdoor Case that is made exclusively for the Wyze Cam V2. You can watch the product video here to learn more about it. 
Bright Floodlight
Having a powerful floodlight makes a big difference in terms of picture and video quality at night. The picture shown above highlights the differences. With over 2000 lumens of lights, the floodlight from the 4-in-1 Floodlight, Charger, Mount, and Outdoor Case enhances the Wyze Cam V2's vision in low-light conditions. The built-in-light intensity sensor and motion sensor will ensure that the light will only turn on in the dark when the motion is detected from up to 33ft away. 
Continuous Surveillance
Our floodlight, charger, mount, and outdoor case also features a USB charging cable that provides continuous charging for the Wyze Cam V2. 
Reliable Outdoor Use
As mentioned before, Wyze Cam V2 is an indoor camera and thus the mount from the 4-in-1 Floodlight, Charger, Mount, and Outdoor Case enables users to mount the camera outdoors easily. With the added outdoor case that is weatherproof and durable, the Wyze Cam V2 can withstand all the harsh weather conditions.
The 4-in-1 Floodlight, Charger, Mount, and Outdoor Case is IP65 waterproof and includes a protective silicone layer on the cable connector and an EVA gasket for the backplate. This makes it a powerful addition and accessory for the Wyze Cam V2. 
LIMITED OFFER
Subscribe to our newsletters for an additional 5% OFF your first order. What are you waiting for?