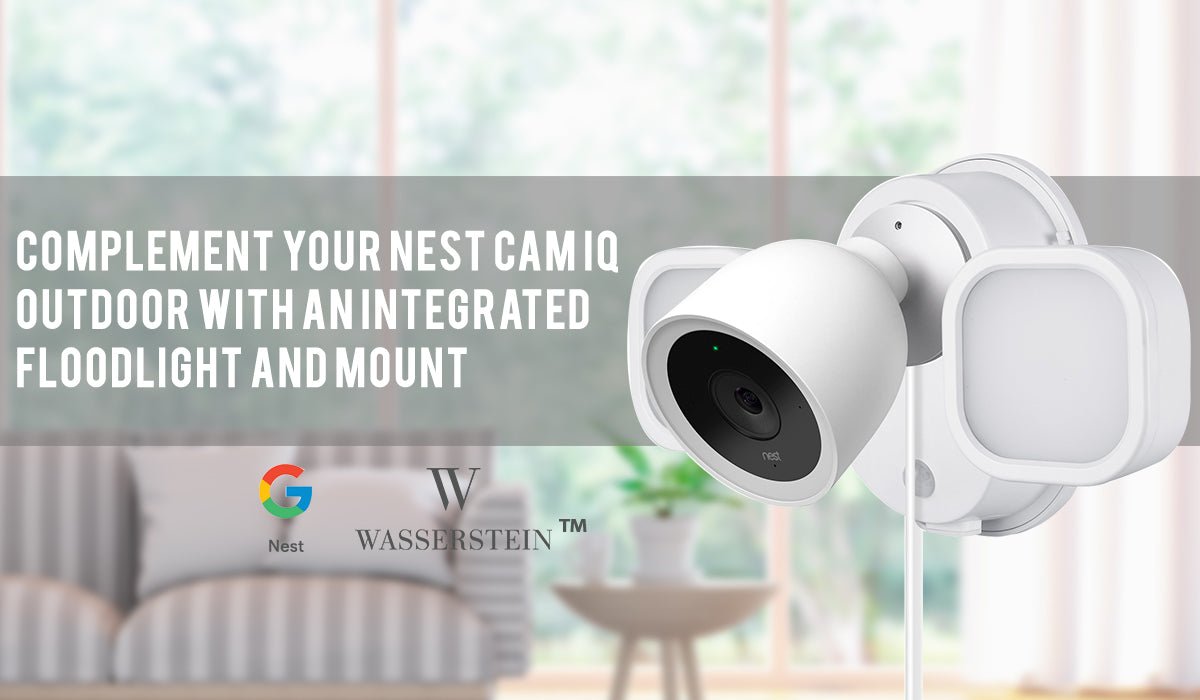 Complement Your Nest Cam IQ Outdoor with an Integrated Floodlight and Mount
The Google Nest Cam IQ Outdoor is a high-definition surveillance camera that is intelligent. Weatherproof, tamper-resistant, and seriously sharp, it offers great surveillance. Thus, it can help you find out about a break-in before it happens. It can detect motion from up to 50 feet (15.2 meters) away and its infrared LED night vision extends to up to 50 feet (15.2 meters), compared to 20 feet (6.1 meters) for most other Nest cameras. With Nest Aware, it can even recognize a familiar face.
It is a great camera that is packed with essential surveillance features. Its Talk and Listen feature allows you to communicate with people on the other side of the lens. The camera also works at night and in low light conditions however its night vision is not as clear as it's daytime footage. Most burglaries take place at night and thus, you would want to make sure that recording quality in those situations is great. The picture below shows a noticeable difference between the images taken without and with the floodlight. 
Do you want the picture to be clearer and excellent in those situations? To enhance the night vision of Nest Cam IQ Outdoor at night, Wasserstein has released the 2-in-1 Floodlight. It is the ideal solution to mount, and complement your Nest Cam IQ Outdoor. You will not have to worry about grainy or hard to see footage during the night, as the Wasserstein Floodlight offers an enhanced night vision technology that will allow you to keep an eye on any suspicious activities. 
Motion-activated lights are a great way to frighten intruders without running up your electricity bill, that's why our floodlight is equipped with a light intensity and motion sensor that will only turn on in the dark when a motion is detected up to 26 feet away. It also automatically turns off after no motion is detected to save power. 
Design and features
The Wasserstein Wired Floodlight provides 2400 lumens of light that enhances your camera's vision in low-light conditions. This allows you to monitor every dark corner of your property. Our floodlight uses LED lights that produce very bright light that illuminates objects clearly allowing for better identification of suspicious persons and activity. 
Another remarkable feature of this floodlight is its outdoor capability. It is IP65 waterproof and it includes a protective silicone layer on the cable connector and an EVA gasket for the backplate. 
Conclusion
If you're looking to upgrade your facility's security equipment, make sure appropriate lighting is a part of your plans. That way, you'll get the most out of your surveillance efforts by installing complementary lighting and cameras in strategic positions where the lighting best enhances your cameras' effectiveness. After all, the whole point of security cameras is to watch what goes on around your property.
We are currently offering great discounts on Nest Devices & Accessories Bundles. Click here to learn more about the bundles. 
LIMITED OFFER
Subscribe to our newsletters for an additional 5% OFF your first order. What are you waiting for?