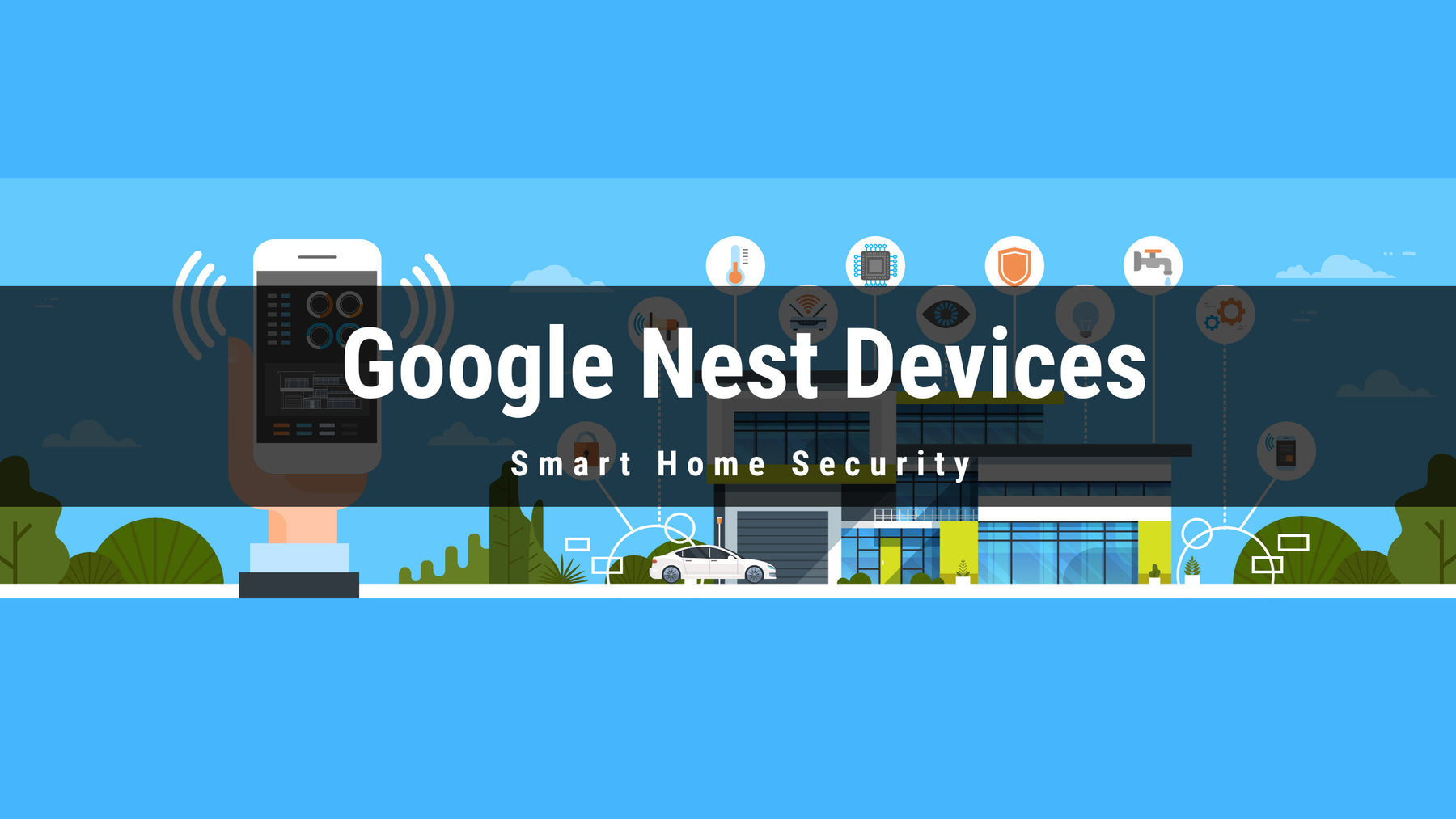 5 Google Nest Devices to Build your Smart Home Security
Setting up a smart home security is easier than ever, but choosing the right smart home ecosystem which allows you to unify and control all your devices in a single app is much tougher. 
Before making purchase decisions, a smart buyer compares features and pricing to make the best choice for them. Today, we'll be introducing a range of must-have devices from Google Nest that cater to a smart home owner's various needs.
Google Nest Cam IQ Outdoor
The premium camera of the Nest Cam range, the Google Nest Cam IQ Outdoor is a high quality outdoor camera suitable for more extreme environments. It has an operating temperature range of -40 to 113°F (-40° to 45°C) and a top notch IP66 rating, making it dust-tight and able to withstand high-pressure water jets.
Of course, it also comes with many of the desired smart cam features. The camera features 1080HD video streaming with HDR and an
8-megapixel 4k sensor with HDR and 12x digital zoom. It is able to detect from up to 50 feet (15.2 meters) away and its infrared LED night vision extends to up to 50 feet (15.2 meters), compared to 20 feet (6.1 meters) for most other Nest cameras. Its HD Talk and Listen feature allows you to communicate with people on the other side of the lens.
What's more, its three microphone array and powerful speaker (15x more powerful than less premium models) help ensure this communication is clear. Footage is streamed securely to the cloud rather than on local storage such as an SD card, meaning it cannot be physically tampered with.
Google Nest Cam Outdoor
The more affordable outdoor camera model, the Google Nest Cam Outdoor, does not feature specifications quite as impressive as the Google Nest Cam IQ Outdoor's, but is still packed with all the fundamentals of a good security camera. 
It has 1080p HD video streaming (also on the cloud), 8x digital zoom, and a wide field of view of 130-degrees, meeting (or even exceeding) industry standards for each specification. The Nest Cam Outdoor works with both Google Assistant and Amazon Alexa. It also works within the Google Assistant app, so you can connect other devices.
The Google Nest Cam Outdoor operates in temperatures -4 to 104°F (-20° to 40°C). The camera also has an IP 65 rating, meaning it is dust-tight and is able to withstand low pressure water jets. It allows you to keep an eye on your yard and talk to any visitors or intruders through the two-way audio feature. You can speak through your Nest app to whoever your camera is pointing at and see everything clearly—even in the dark.
Google Nest Hello Video Doorbell
The Google Nest Hello Video Doorbell aims to capture everything on your doorstep. Its unique 4:3 aspect ratio differs from other 16:9 widescreen ratio cameras in that it is designed to be able to capture packages on the ground and visitors from head to toe. With subscriptions, it also offers facial and object recognition, and is able to alert you when packages arrive. It gets even easier once you connect your Nest doorbell to Google Home.
The camera is equipped with two-way audio. You can give a delivery person instructions, scare-off an intruder, or simply greet your guests. It also features infrared night vision through 850 nm LEDs. 
Google Nest Cam IQ Indoor
One of the most technologically advanced personal indoor security cameras available is the Google Nest Cam IQ Indoor. A sleek little camera that has a round white base with a thin stem, leading up to its shiny black camera framed in white plastic. The camera has an 8-megapixel (4K) colour sensor, with 12x digital zoom, close-up tracking view and a 130° diagonal viewing angle. The video quality is 1080p, at 30 frames/sec, H.264 encoding with HDR. With 940nm, high-power infrared LEDs, night vision is one of the great features of this camera. 
According to Nest, the Nest Cam IQ has a speaker 7x more powerful than the Nest Cam Indoor. The camera also comes with noise and echo suppression, creating crystal-clear audio. The Nest Cam IQ has two-way audio and person detection capabilities, meaning it can tell the difference between people, animals, and other moving objects. With Nest Aware subscriptions you'll get extra features like continuous video storage, clips and time-lapses, familiar face alerts and cloud storage.
Google WiFi
The Google Wifi brings fast Wi-Fi to every room, eliminating spotty connections and dead zones. Each Google Wifi serves as a router that broadcasts Wifi, so you can have multiple sources of powerful Wifi throughout your home, rather than from a single router. You can place as many Google Wifis as you need without affecting your Wifi speed. 
What's more, the Google Wifi intelligently transitions your device to the best Wifi point as you move from room to room, and places you on the least congested channel. The Google Wifi app enables you to see devices that are connected, monitor bandwidth used, prioritize a device for faster speeds, pause Wi-Fi on your children's device and create a separate network for your guests. It's a great choice for ensuring strong network connection for all your smart home devices.
Google Nest Hub Max + stand
The Google Nest Hub Max is a central hub compatible with thousands of smart home devices, from locks to lights to TVs. With a 10-inch screen (1280 x 800 resolution), the Google Nest Hub Max is bigger than the 7-inch Google Nest Hub. Its touchscreen delivers sharp images and text, while the 6.5MP camera captures photos in fine detail. The built-in stereo speaker system features a 30W subwoofer for high-quality audio.
With the Google Assistant app installed, you can set up, manage, and control your Google Home and Chromecast devices, along with other connected home products such as speakers, game consoles, cameras, thermostats, and more. Control them via voice or from one dashboard. If you use Google Photos, the Hub Max is a great digital photo frame. 
The Google Nest Hub Max is best partnered with an adjustable stand that holds your device securely in place and prevents it from getting wet/the cloth-covered base from getting dirty.
Google Nest Learning Thermostat
When it comes to central heating control and keeping track of energy, the Nest Learning Thermostat is a clever one. It learns your habits to automatically adjust the temperature to your preference, and to save energy. When you leave, it turns itself down. You can control your home's temperature through the app anywhere and the thermostat is also compatible with Google Assistant for voice control. What's more, you can monitor your energy spent everyday and learn how to use less.
Measuring 1.2 inches thick and 3.3 inches in diameter, the third-gen Nest Learning Thermostat is slightly thinner and wider than the original model (1.3 by 3.2 inches) and still maintains the same sleek puck-shaped design. It is best paired with a wall plate, which covers up the holes of your old thermostat and allows you to blend in the style of your home.
THE HURRY-UP LIMITED OFFER
Subscribe to our newsletters for additional 5% OFF your first order. What are you waiting for? Sign up now and buy Google Nest Bundle Collection now!